Sticker Shield®
Eliminate the hassle of scraping off old stickers from windshields, glass and household surfaces!
Buy Now!
Stick it… Unstick it!
Make Any Sticker A Reusable Sticker!
Easily peel off and re-use windshield stickers with this undetectable film!
With Sticker Shield, placing a new windshield sticker is a breeze! If you put it on crooked, you can straighten it. If you need to transfer it to another car, no problem! Best of all, no more solvents, scraping, or screaming when removing your windshield stickers!
Protect Your Windshield And Integrated Defroster Strips From Damage!
View Products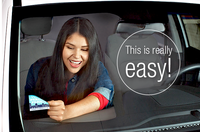 Sticker Shield Protects Interior Surfaces From Adhesive Residue
Sticker Shield isn't just for windshields! Here is a sample of some of the ways this versatile product can be used.
Protect Your Vehicle's Window Defroster Strips and Window Tint from Sticker Adhesive
Carpool Lane Stickers
Gate Stickers
Safe Surface for Cracked Phone Screens
Kid Stickers
Home Security Stickers
Scrapbooking and Laminating
Home Projects
Transparent Dry Erase Note Board
Transparent Labels
Sticker Shield is Sold at These Trusted Retailers