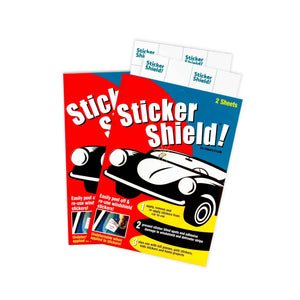 Sticker Shield is a thin transparent laminate film used to protect surfaces from sticker adhesive residue. With proper use your stickers will easily peel off and stick back on, again and again.
The Sticker Shield two pack of includes four 4X6-inch sheets of quality transparent film that can be used to make nearly any sticker a removable sticker.
Sticker Shield is easy to use and comes with detailed directions for using with both traditional stickers and window decals.
Our product is backed by our quality guarantee. If Sticker Shield does not work for your needs, we'll give you a full refund. No questions asked!